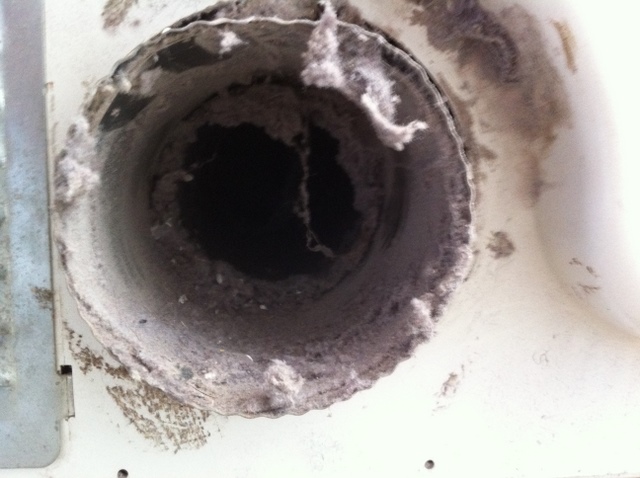 For those that aren't in a habit of cleaning their dryer vent on a frequent basis, you'll find some very important information provided here about dryer vent cleaning & dryer cleaning. Understanding how important it is to keep your dryer vent clear will determine whether your dryer will function properly or if you are actually creating more of a hazard as a result of having a clogged dryer vent. The information provided here is to help you when it comes to understanding why it's important, how often they should be cleaned, and how often they should be checked for additional cleaning.
Why Have Your Dryer Vent Cleaned?
Safety is one of the primary reasons for cleaning your dryer vent. When the dryer vent is clogged, heat builds up inside the dryer. This heat can actually get so hot that it will cause lint to ignite, burning material such as clothing or plastic or thin foil dryer transition hose. This will not only turn into a fire hazard, but this can potentially put you or your family at risk. This kind of risk is totally avoidable by simply carrying out dryer vent cleaning on a regular basis. Now, it'll be important to realize that you can perform these cleanings yourself. However, in many cases, the dryer has a long vent, it may vent to the roof or on the outside on the second or even third story. If this is a situation you are facing, it'll be important for you to call a professional Dryer Vent Cleaner to have them come in and perform the dryer vent cleaning for you. You will discover that when a cleaning is performed, this will provide savings on your electric bill, as well is your gas bill. Of course, this depends on the type of dryer you have. This will also allow your appliance to work at levels that are recommended by the dryer manufacturer. Anytime your dryer has to work overly hard, this can cause wear and tear on the components within the dryer that will need to be replaced sooner as a result of the dryer working too hard.
How Often Should the Dryer Vent Be Cleaned
If you're wondering how often you should have your dryer vent cleaning, the recommended frequency is about once a year. Now, this will all have to take into consideration the type of dryer you have, how many live in the home, where the dryers located, how long the dryer vent is, and how long it's been before its prior cleaning. Once all of this has been considered, you will be able to realistically figure out a schedule specifically designed for your dryer, and the next cleaning it will require. For those that have just purchased a new dryer, it is highly likely your dryer vent was not cleaned and you should call to book a dryer vent clean soon. For those that have owned their dryers for quite some time, it's important to get your dryer cleaned soon so you know what the condition of the dryer vent is. If it has been longer than 12 months, you'll either need to clean the inside of the dryer, or call and have a company come in and provide a service for you. Dryer vent cleaning & dryer cleaning are extremely important, and if performed properly – this will ensure that you're not putting yourself or your family at risk, you are saving on your electric or gas bill, and you will get many years of service from your dryer as a result of this efficiency.
Why Dryer Cleaning and Dryer Vent Cleaning Makes Sense
Cleaner windows cleans dryer vents but we also clean and service dryers. In our experience we have found lint build up inside the dryer, sometimes burnt lint by the element, on the element housing and in the dryer exhaust. For this reason when we clean your dryer vent we recommend you let us service inside your dryer cabinet. This is recommended by your dryer manufacturer (in that book thing no one reads!). One more very important thing is that you should not have a plastic or thin foil transition hose (this connects the dryer to the wall) there is a warning on the back of the dryer that states this very clearly and insurance companies have denied claims (in the USA) from dryer fires because of this warning. Call us today for Dryer Vent Cleaning 905 966 0838 or via the contact form above.
Dryer & Dryer Vent Cleaning Video
This video was in a house in the Tyandaga area of Burlington. The home owner was truly shocked at just how much lint was removed from her dryer vent and had accumulated in her less than 18 months old dryer.