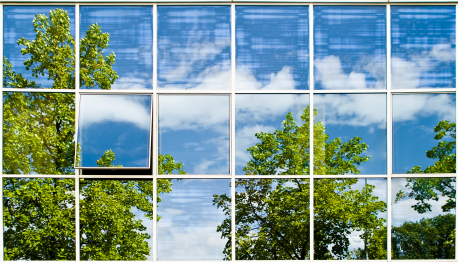 There's nothing better than walking by a house or building and seeing all the windows sparkling back at you. It tells you something about the people inside that building and the importance they place on appearance.
Most people get their windows cleaned – or do it themselves – without a second thought. But it's worth thinking about why you should get them cleaned on a regular basis. The chances are you don't realize just how important it is to do so.
Window Cleaning Why Have Them Cleaned?
Let's take a look at some of the reasons window cleaning makes sense.
First impressions last – particularly for businesses
Have you ever seen a house or other type of building with really dirty windows? What did you think when you saw it?
The chances are you didn't think of anything positive. It actually gives you an opinion – right or wrong – about the owners of that building. This is true regardless of whether it's a commercial or residential building.
Do You Need Window Cleaning?
Now think about the state of your own windows. When was the last time they were washed? How much better do you feel when they have just been washed and look sparkling and new? Wouldn't you prefer to feel that way about them all the time?
Burlington Window Cleaning
You can if you hire a professional window cleaning company in Burlington and Oakville to handle your regular window cleaning tasks for you. Then everyone else will be able to see just how much pride you take in your home or commercial building.
Regular Window Cleaning Will Protect Your Glass From Damage
We all know glass can be broken. But did you know that regular pounding by the rain, dirt, salt, grit and more can all do damage as well?
Regular window cleaning reduces the damage that can be done in this way. Don't leave it until it's too late – you can vastly minimize the damage that will be done if you contact Cleaner Windows now.
Pure water cleaning on a regular basis washes away all the dirt and grit
Dirty windows never look good. But you don't have to use harsh detergents or other potentially harmful liquids to get them clean, pure water and effort are the preferred choice for "Cleaner Windows", Burlington based window  cleaning service.
Pure Water Window Cleaning in Burlington
Our pure water fed pole system gets your windows sparkling clean without using anything other than pure water. Yet it is still capable of washing away all the dirt that can harm the glass over a period of time.
When you get your windows cleaned regularly you'll notice how much nicer they look. We all want our windows to look their best because it reflects on us (if you'll pardon the pun!). It helps our property look better all the time, because the windows never get a chance to get really dirty.
Have your Windows Cleaned You'll See More Out of Them!
Yes it might be an obvious reason but it's one of the main reasons why people do get their windows cleaned fairly regularly. There is nothing worse than sitting back in your chair and glancing out of the window at the view… only to be disturbed by the amount of grit and dirt on the glass.
Cleaner Windows Your Burlington Window Cleaning Company
Whatever kind of view you have from your windows, you want to make the best of it. Having clean windows all the time means you'll be able to do just that. So if you are thinking about getting your windows cleaned by a professional window cleaning company located in Burlington and Oakville, you can come to us with confidence. We'll be able to clean your windows efficiently and effectively and leave them looking better than ever before. When you ask yourself why you should have your windows cleaned, you'll find we're the answer you're looking for.